Advertising, Events Calendar and Media Partnerships
Are you looking to promote to your AR, VR or XR business or project? We have a number of paid advertising opportunities available via our podcasts, influencer channels and our website. If you are interested, download our media kit (including media calendar) for more information or contact us directly.
To download the media kit: Click Here
Podcast Advertising
Podcast Ads – This ad is an audio ad that appears in our podcast (Pre roll, Mid roll or Outro) – You supply the text and call to action (max 100 words) and we will record it with our voice over and mix it into a podcast episode. Your business, product or service will also be mentioned in the liner notes of the podcast.
Sponsored Podcasts – Sponsored podcasts are unique podcasts episodes where we interview you about your product or service, or we specifically discuss your business product or service. Includes one podcast ad (pre-roll) and your business, product or service will also be mentioned in the liner notes of the podcast.
Social Media Blast (Instagram, Facebook, Twitter) – We will share an image, text and link about your product or service on our social media channels. You can either submit the image, text, link & profile callout and we will share it, or if it requires product placement, then you must send us the product to include in our own photo. (Shipping and return shipping must be paid by you)

Website Advertising
Sponsored Blog Posts – You provide an up to 800 word post about your product or service which will exist on the website indefinitely. You can link to this post, excerpt it for your own marketing, or quote it on your own site. Sponsored posts will be shared once on our social media channels (facebook, twitter, LinkedIn and Pinterest) Each post must include two graphics: 1 header graphic (1200 x 630) and 1 social media graphic (1080 x 1080)

Editorial Approval
All ad submissions are subject to approval. If we deem that an ad is not appropriate for our content for any reason, you may submit a different ad, or receive a refund. To avoid abuse or misuse, we prefer that graphics files be hosted on our server.

Your product or service must be in keeping with the content and purpose of our website. The products and services that would be appropriate for advertising on our blog include, but are not limited to: virtual reality (VR), augmented reality (AR), mixed reality (MR or XR), 360 photos, videos and camera equipment, related industry events, technology, computer and mobile hardware, headgear, games, software, books & DVDs on similar topics.

Ads for unrelated products or services will not be accepted. If you substantially change your website or webpage, so that the ad no longer links to a product or service related to our content, then (in our sole discretion), we may issue you a pro rata refund and remove your ad.

Events Calendar
If you are promoting an AR or VR related event or conference and would like to be added to our events calendar, please follow the submission guidelines listed below. Please be aware that calendar entries are added based on review and approval only and as time permits.

Please provide ALL details related to the event. (Date, location, links, promoters, etc.) Please be sure to check the other calendar entries in order to understand what info is necessary.
Please provide a detailed description of the event and make sure that your text is well written and the copy is checked for grammar and spelling errors. We will not accept poorly written descriptions nor will we take time to check or rewrite any info.
Please provide a header image that is 1200px wide x at least 675px high.
If we agree on a banner, banner size is 1080w x 1080h in jpg format. (No animated gifs)
No last-minute entries. Please submit your events at least one month in advance of the show date.
In exchange, we require a link back to our website via our logo placement on your media partnership page.

Media Partnerships
We are open to doing a select number of high-profile media partnerships per year. Unfortunately, we can't accept all of them, but if you have an amazing event planned and would like to work together for cross-promotion, feel free to get in touch.

In exchange for Media Partnerships, here's what we require
A free press pass to the event
Linked logo placement in the Media Partnership section of your website and print material.
You can download our logos here: robotspaceship logos
We will NOT sign any contracts or binding agreements.

Here's what we can offer:
Events Calendar Placement
Social Media Promotion, within reason
A blog post about the event. (You must provide the copy / press release and the header image)
Banner placement one month before the event (as banner space permits and you must provide the banner)
Sorry, we will NOT do any newsletter mailings.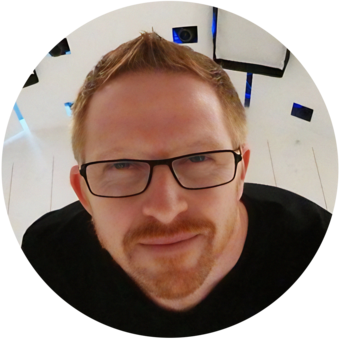 More Questions?
We're here for you!
Sean Earley
|
CIO / Exec. Editor