Produce video? Tell stories!
Science knows that video allow us to absorb information five times better than text, because they tell stories quickly and arouse strong emotions. We know exactly how to find the best stories for your company, product or offer - and tell them as video!
Together with you, our team works out what your goals are, where challenges lie and, above all, what makes your target group tick. On this basis, we select the appropriate video form for your communication channels and develop the idea and concept. In the project we take care of the complete production including organization of set, studio, actors, green screen or locations.
Whether curiosity, understanding, desire or enthusiasm - the finished video will arouse exactly the right emotions in your viewers and help you on your way to success!
Films and videos that touch the mind and the heart.
Corporate Films
Your brand in the leading role
Whether you're a large corporation, start-up or small business, corporate film can be a powerful tool for your marketing. Who are we? What do we stand for? What philosophy do we live by? We work with you to create a film concept that conveys your company's DNA. Externally and internally.
In doing so, you benefit from our many years of experience in the field of corporate communications. For a film that works as part of your marketing concept and never loses sight of the needs of your target group.
Explainer Videos
Turns every "Huh?" into an "Aha!"
Make super complex things super simple? That's a case for the explainer video! We help you get to the heart of how your company, product or service works in a short time.
Depending on your requirements, with real footage, animations or a mixture of both. And: with professional speakers on the soundtrack. Together, we can create a clear understanding of even complex topics for viewers with your finished explainer video.
Product Films
Unique down to the smallest detail.
Complex functions, impressive design, special application? We put your product in the best possible light: detailed shots meet storytelling and let your product speak for itself.
With a product film, you make the appearance, features and benefits tangible for potential customers - and directly influence their purchase decision.
Recruiting Films
Simply attract new employees.
In almost every industry today, attracting new employees is a real challenge. If you present your company authentically, you can stand out from the crowd and score points with the right applicants.
The recruiting film format complements your measures perfectly! We help you translate the right messages into a film concept that strengthens your employer brand and arouses the interest of potential professionals.
Animation Films
Putting pictures in motion.
Bringing images to life, making the invisible visible, letting things tell their story - thanks to animation and motion design, there are no limits to your imagination.
Our team develops animated videos for you that arouse emotions and convey information. Depending on the target group and content, minimalist to realistic, in 2D and 3D or in combination with real film footage.
Training Films
Seeing and learning
Whether it's a training course, seminar, product manual, or employee training - videos make complex knowledge simple. In an understandable and entertaining way, the content stays in the minds of your target group.
We work with you to develop the right learning concept for your goals and produce individual training films.
Event Videos
Experiences that inspire.
Are you planning and hosting an event? The contents of the day are worth capturing for the future? We accompany your event and capture highlights, dynamics and atmosphere in moving images.
Whether it's a trade fair, a conference or a private event - we will skilfully stage your event and create authentic and emotional memories that will inspire you from the very first second.
Social Media
Video content on point.
On every social media platform, what doesn't immediately attract attention is scrolled away. The first 3 seconds decide whether your content is convincing.
Whether striking, surprising or shrill - we design social media videos for you that convince with creative stories.
Documentation
Real stories, creatively told.
Society, trends, history, biography, technology - our team of editors and filmmakers realizes professional documentaries for you on a wide variety of topics.
From research to writing concepts and scripts to production with locations all over the world. Depending on the story you want us to tell, we conduct interviews and surveys, find archive material, visualize facts and animate fictional and real scenes. The big bracket is always the narrative with its dramaturgy of images, original sounds, commentaries and music.
Your advantages at a glance:
What can I achieve with video?
Where can I integrate moving images into my communication?
Which visual language suits my brand?
We advise you right from the start on all questions concerning your planned video production. Only when we have truly understood your communication challenges do we get to work on the implementation in close consultation with you.
The following applies to all decisions in the production process: We always keep your individual requirements and goals in mind. Conception, film, animation, sound, voiceover, project management - our well-coordinated team brings all the skills needed to professionally implement your moving image project.
25 Years of Experience

25 years of experience with successful corporate communications

Team

The best in the industry! Fixed and highly trained, concept and production teams for high quality and fast turnarounds.

Equipment

Ready-to-use equipment for any type of video production with standards up to 12k resolution

Consulting

Complete project management for all conceivable requirements and scenarios: set design, studio and green screen, booking of actors and speakers, location shots and drone flights with permits

Set Organization

Flexible on-site shooting assignments at our location in Mainz and throughout Germany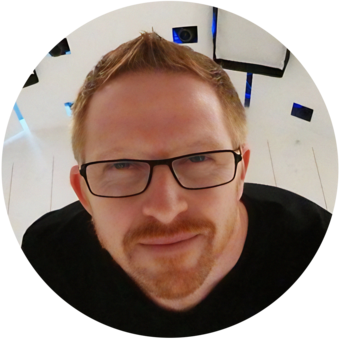 More Questions?
We're here for you!
Sean Earley
|
CIO / Exec. Editor