What to expect on
11.07.2023 at the Gonsberg Loft, Mainz Germany
We're all experiencing it. That electric buzz in the air. That's the future knocking. New tech is dropping daily, the world's rhythm is ever-shifting, and adaptability is our new mantra.
With Spacewalk Talks by robotspaceship, we're handing you the keys to the future. In this whirlwind era of tech revolutions and constant curveballs, our event is your anchor, your blueprint to navigate and shape what's ahead.
We're not just talking big ideas here. We're diving deep into actionable strategies, from the future of work, the magic of AI, to the pulse of digital communities and the allure of the metaverse.
Our lineup? National legends, pioneers in their fields, ready to share their treasure troves of insights. They're the wizards behind the curtain of new tech, AI, gaming, diversity, and the enigmatic metaverse.
But wait, there's more! Beyond the talks, we're setting the stage for interactive workshops and immersive sessions. Dive in, soak up, and gear up to implement!
Entrepreneur, scientist, start-up enthusiast, or just a future geek? Strap in; this ride's for you!
Program
08:30 - Admission / Check In
09:00 - Welcome + Impulse robotspaceship
09:30 - "The Future of Work - What if....?" Raphael Gielgen | Trendscout Vitra
10:30 - Networking Break
11:00 - "Star Wars & Employee Communities: Future-Proofing Companies with the Hero's Journey" Claudia Feiner | Senior Manager Strategy at Diconium, formerly Porsche
12:00 - Networking lunch with specialties from "Essen für uns" (Food for us)
13:30 - "Looking to the future with AI" Julian van Dieken | AI Artist, LinkedIn Top Voice for AI
14:30 - Coffee break - Walkthrough exhibition of partners - Networking.
15:00 - "Get ready for the Metaverse" Stephan Bauer | Microsoft, Manager Experiential Marketing
16:00 - Explore Time - Try out the future!
17:00 - Networking - End
Meet the Time-Travelers:
Your Guides to The Future
We have curated a program for you that deliberately addresses very different aspects of future planning and offers you a complete round trip through the topics of tomorrow in one day!
These speakers await you at the SpaceWalk Talks:
Dr. Oliver Kemmann
The visionary behind robotspaceship. He saw the tidal wave of change coming and rode it, transforming his agency into a beacon for businesses navigating the new era.
Raphael Gielgen
The trend scout for high-end furniture manufacturer Vitra is deeply engaged with the questions that a new work environment brings. Just because office chairs are central to every workplace today doesn't mean it'll be the same in 20 years. Shaping the future, he says, is like "baking without flour."
Claudia Feiner
After 6 years at Porsche, Claudia is now Senior Manager at diconium strategy GmbH. Her topics include gaming, new business models for the automotive industry, E-Sport, Web3, Metaverse, crypto & Cryptoclaud.eth, NFTs, AI, OpenAI, ChatGPT, leadership, disruptive innovation, digital transformation, courage, communities, connecting ideas, feminism, Japan, motorcycles, Chaos Computer Club, gaming, continuous learning, the importance of real diversity, and drag queens. Enough said, right?
Julian van Dieken
The creator of the "Merkel and Obama on the beach" pictures. With his art he manages to draw national attention to the topic of generative AI. His paintings hang in museums and they are talked about in Die Zeit, Der Spiegel and the heute Show. The main topic of Julian van Dieken is "Artificial Intelligence in the creative sector". He gives workshops on this for companies. He deals with the future of learning, digital tools and digital education in daycare centers, schools and universities. Van Dieken is co-founder of the Waterkant Academy, which develops and offers training, blended learning and eLearning for daycare professionals.
Stephan Bauer
Stephan is a Marketing Communications Manager at Microsoft and says he's primarily driven by digital topics. He handles various topics and formats: from events (trainings, conferences, webinars, etc.) to activities around #OpenAI and #Metaverse.
Benjamin Mandos
Founder of Gotbag, the first backpacks and bags made from marine plastic, who is on his way to global expansion with his sustainable start-up based in Mainz, Germany.
Dr. Carsten Herzhoff
CTO and COO at 2-time innovation award winner Lohmann Tapes from Neuwied, he has successfully turned his company into an innovation machine.
Sabine Bittmann
Managing Director of the BITO Campus in Meisenheim, shows how the owning family of BITO-Lagertechnik took their innovation destiny into their own hands and built an innovation campus.
Eva Vollmer
Winemaker and co-founder of Zukuntfsweine, the start-up from Mainz that won the German Sustainability Award.
"What starts out as science fiction today may wind up being finished tomorrow as a report."
- Norman Mailer
Act Fast!
It's Worth It!
If you want to be part of the SpaceWalk Talks on 7th November 2023, act fast: Tickets are limited!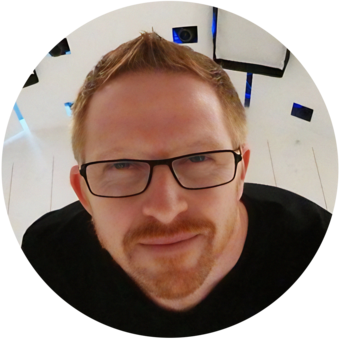 More Questions?
We're here for you!
Sean Earley
|
CIO / Exec. Editor